Adrien Béraud and Sébastien Blin of GNU Jami: Working together for free communication
Adrien Béraud and Sébastien Blin are two developers from the GNU Jami project, which won the 2022 Free Software Award for Projects of Social Benefit. Below they tell us about their reasons for writing free software, what motivates their work on GNU Jami, and why all software should be free. Free Software Foundation (FSF) campaigns manager Greg Farough asked them these questions as part of our series Working Together for Free Software, which we highlighted as part of our 2023 Spring Fundraiser.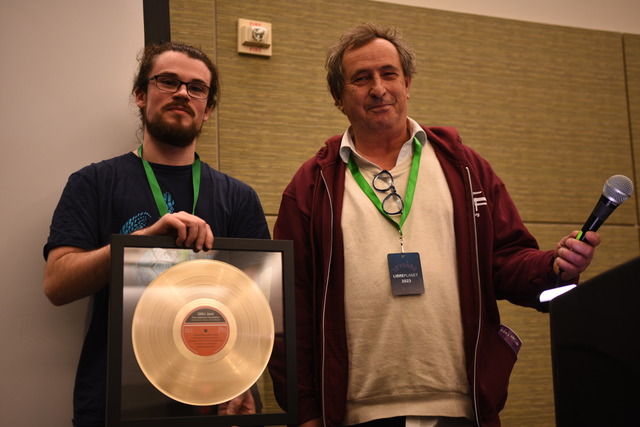 Adrien's answers
FSF: What are your motivations for working on GNU Jami (or any other piece of free software)?
Adrien Béraud: The Internet is a revolutionary network that allows people to communicate directly and instantaneously across the world with minimum friction. Free/libre/open protocols built on the Internet, such as email and Hypertext Transfer Protocol (HTTP), had enormous impact on how people communicate, and I believe this is just the beginning.
Our ability to communicate is a core part of who we are and what we do. However, large corporations are using the Internet to build walled gardens instead of free communication platforms. These walled gardens are opaque proprietary platforms, which make users dependent on a third-party that is in control of both the protocol and the software. These third-parties exploit user communications and users for their own benefit, even if the communication is encrypted.
The goal of GNU Jami is to allow people and organizations to communicate freely and securely, without depending on a third party -- not even dependent on our company, Savoir-Faire Linux (SFL), by building a free, distributed communication platform based on existing standards.
As for free software, I consider it to be a public good that can benefit humanity. Working on free software is much more personally gratifying for me than working on proprietary software because the work will potentially benefit everyone as it may be shared freely.
FSF: Why is community and sharing so important?
AB: A common, understandable bias among software developers is that we have a tendency to develop for ourselves rather than working for people. Connecting with potential or current users and stakeholders is of tremendous importance to understanding what people want and need from a piece of software. For instance, a blind person may give us feedback and advice that will help us make GNU Jami more accessible to visually impaired people. People living in dictatorships or repressive countries communicate with us to make sure GNU Jami is as useful as possible in these environments, etc.
In the other way, sharing our plans, goals, and vision as well as our source code with the community allows people to understand GNU Jami and (hopefully) to build long-term trust with developers.
Sharing GNU Jami under the free software license GPLv3+ makes GNU Jami, I believe, a common good. I also think that a successful free communication platform needs to be implemented as free software, allowing users to easily understand, verify, contribute to, and freely re-implement the protocol.
Empirical evidence have shown that proprietary communication systems (like msn or blackberry messenger) come and go, while only free standard like email successfully pass the test of time.
FSF: Why should everyone be using free software?
AB: Using free software gives people and organizations the legal and technical tools required to be in control of their digital life. The importance of free software is made more important every day as major corporations concentrate always more power at the expense of people and democratic governments, as this sort of unjust control over software, protocols, and systems is increasingly used for mass control and exploitation at a societal level.
Sébastien's answers
FSF: Your turn, Sébastien. What are your responses to these same questions, how you got involved in GNU Jami and why you think free software is important?
Sébastien Blin: I've been working on GNU Jami for six years. Before this, I was a student in Computer Science/Engineering in college in France, and I generally spent my spare time in a hackerspace or FabLab. I discovered the benefits and the world of free software just before entering high school after testing Kubuntu and trying to make my own media player (spoiler: it was a disaster). But creating things, helping other projects, and sharing all kinds of knowledge has been important to me for a long time. It's harsh when you cannot understand or discover how something works or modify it the way you want to use it. A lot of time is lost because of this.
I always tried to participate in communities working together on projects mainly because I think this is a good way to improve things. Plus, you always learn new things about many different subjects, and you'll be asked questions about things that matter.
When I was a student, I tried several distributed communication software options because the technical aspect was really interesting. Nothing really worked, but I learned a few things. In 2016, I moved to Canada, and during a conference, I met someone from SFL, and I learned that he worked for a company developing a software I had already tried to understand several years ago. I was looking for an internship, and this was, for me, the perfect opportunity to work on a piece of software that was both interesting technically as a developer as well as socially as a person. Plus it was free software. And all this is still the case several years later.
And thanks to the community, this is how a project evolves and grows. A lot of ideas come from the community. In particular, the accessibility, packaging, and translations are improved thanks to the community. Sharing software with anyone is important to create something that matters for a lot of people. Using free software allows people to control their data and usage.
Working together for free software
This article was submitted as part of the Free Software Foundation's Working Together for Free Software series. See their accompanying profile page at https://www.fsf.org/working-together/profiles/gnu-jami.