Other uses for your USB member card
There was a discussion on our member forums that suggested you couldn't change the structure of your USB member card. Here's a guide on doing just that.
First, insert your USB member card into your computer — for this demonstration, I'm using Trisquel GNU/Linux (which comes on the most recent cards) but any of the distributions on our list will work.
Once inserted, you should see two new drives pop up or appear on the desktop.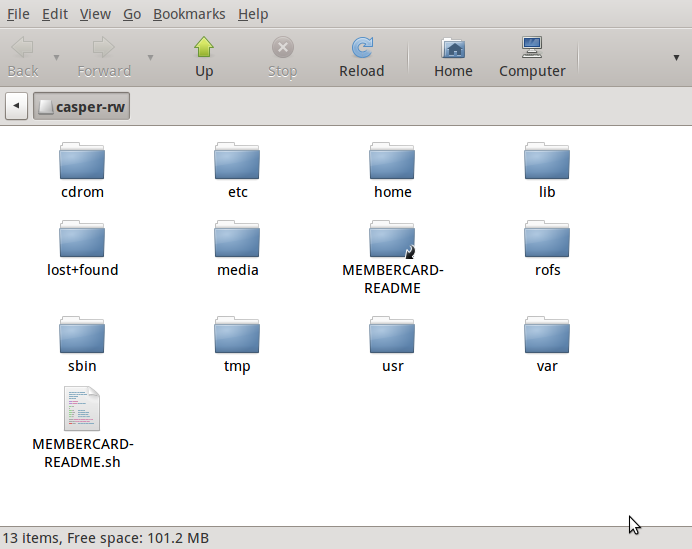 One will be called 'casper-rw' and one will be called 'liveusb'. In this example, we're going to wipe the card and use it as a typical USB memory stick, where it can be loaded with another distribution or used to store files.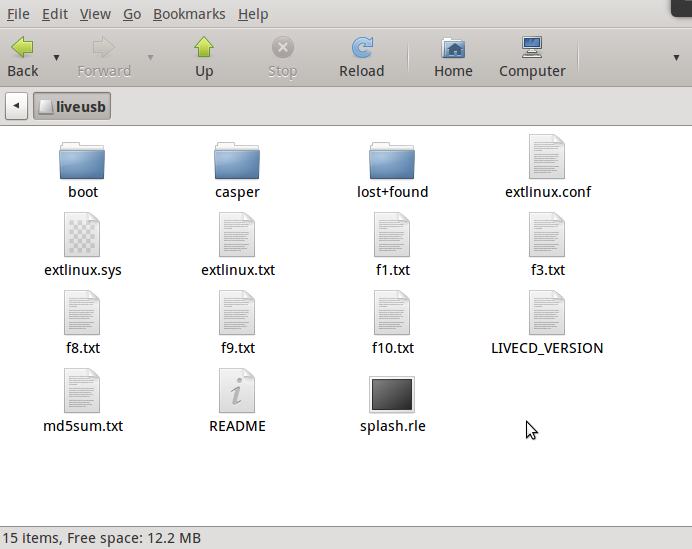 To start the process of wiping the card, we first need to erase both of these virtual drives, or partitions from the USB drive. For this, I'm going to use a graphical partition editor called gparted.
Because gparted should be run by an administrator, I'm going to run it with the gksudo program, which will prompt me for my computer's administrator password and then run the program as the adminstrator user.

Once loaded, gparted will show you all of the partitions on the USB drive. Be sure to select the correct drive from the list at the top-right of the screen. In general, the USB stick will be approximately 900, 1800 or 3700MB in size, depending on when you joined as an associate member.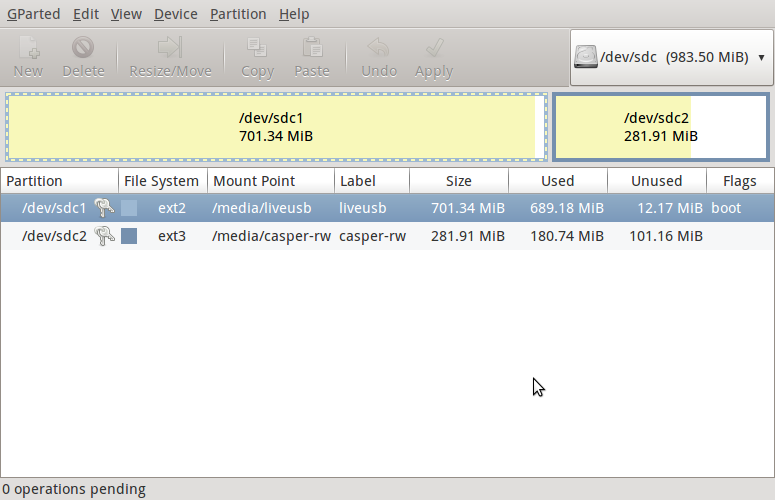 Next, you'll need to 'unmount' these drives from your computer, so we can remove them — this stops other programs from writing files to the drive while we erase it.
To do this, simply right-click on both the 'casper-rw' and 'liveusb' partitions, and choose 'Unmount' from the menu.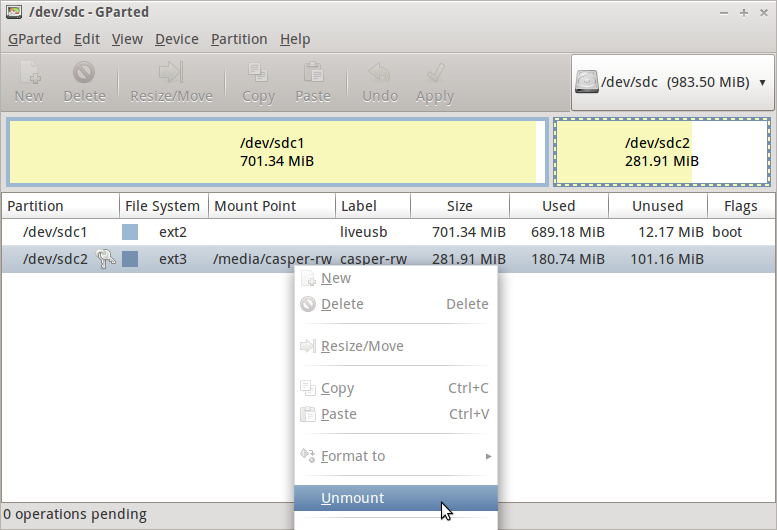 Once unmounted, the partitions can be deleted.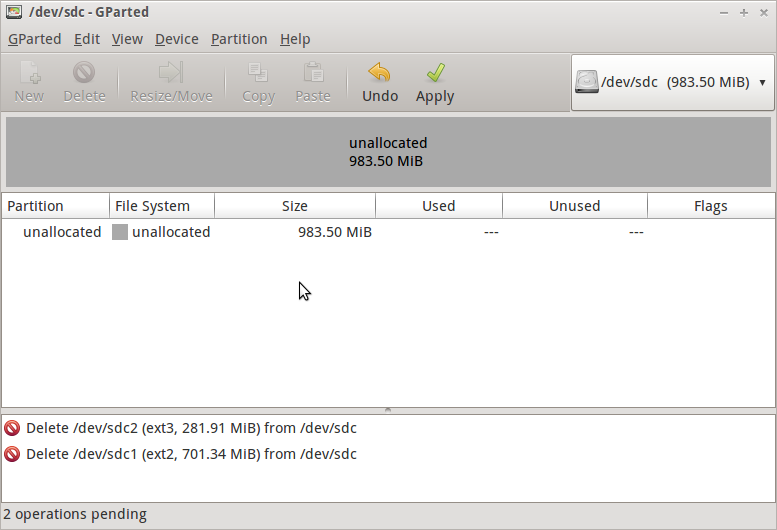 Once they have both been deleted you will see a large area of unused space on the drive. You can click the 'New' button to make a new partition in this space.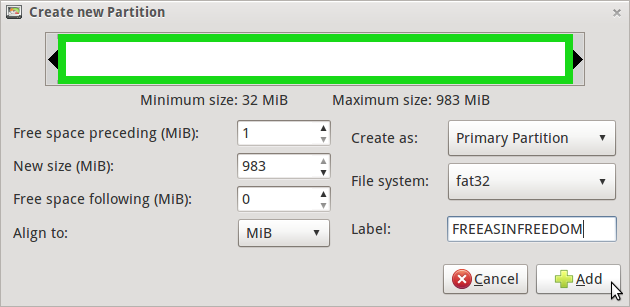 Choose the kind of file system you want carefully: if the drive needs to be used on Windows and Mac computers, choose FAT32. If you are only using it on GNU/Linux, then ext2, ext3 and ext4 are all good choices.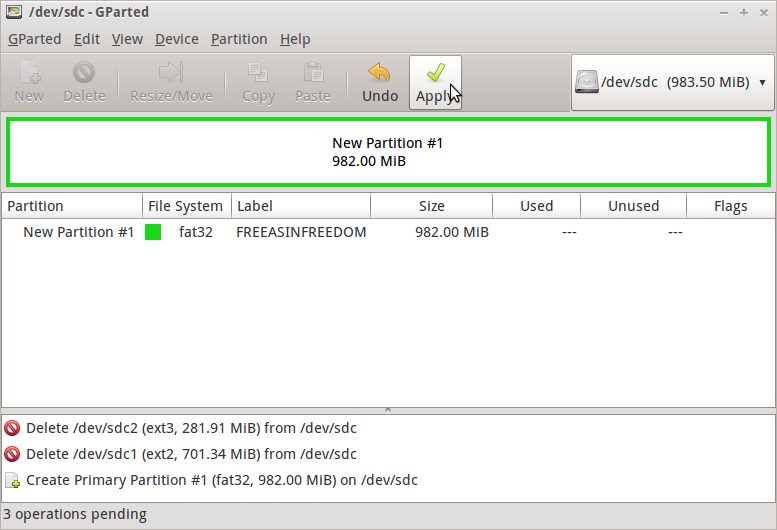 Finally, click the apply button to make all the changes to your card. When completed, your card is ready for you to install new distributions onto it, or use it to copy files.
Send us your feedback on this article to campaigns@fsf.org.