Ayúdanos a alcanzar nuestra meta de 50.000 dólares antes del 16 de julio: ¡Haz una donación a la FSF hoy!
Ayúdanos a alcanzar nuestra meta de 50.000 dólares antes del 16 de julio: ¡Haz una donación a la FSF hoy!
Enlaces y artículos relacionados
We made it! With your support, we quickly reached our summer fundraising goal of USD 50,000. In fact, we surpassed it before our deadline. From now until July 19th, we are stretching our goal to add another USD 11,000 to the total, and this time, it will be matched! Thanks to a generous offer from Cristian Frâncu, Andreea Frâncu, and Andrei Pitis, we can push freedom forward even further this summer when you support us in this last week.
¡Haz avanzar la libertad hacia adelante!
Sin software libre, no podemos ni tendremos una sociedad libre. Para asegurar un futuro liberado, es vital que nos eduquemos a nosotros mismos y a los demás sobre los pasos que podemos tomar para asegurar nuestros derechos informáticos. Es una lucha que toca la vida de todos los que conocemos, y cada uno de nosotros tiene su propia historia de libertad. Queremos llamar la atención sobre estas historias y usarlas para animar a las personas a comenzar su propio viaje hacia la libertad del software.
Para proteger tus derechos, contamos con donaciones de personas como usted, que utilizan y aprecian nuestro trabajo. Impulse nuestro viaje hacia adelante y ayúdenos a llegar a nuestro destino final: la libertad total del software. Comparta el mensaje de software libre usando la etiqueta#UserFreedom en las redes sociales.
See this page in: Spanish | French
Su apoyo ayuda a impulsar nuestro viaje hacia adelante
Conéctese con la FSF a través de IRC en Libera.Chat
Learn email self-defense with our updated guide!
The latest FSF campaign: Freedom ladder
Read the Summer edition of the Bulletin
¿Por qué apoyas a la FSF?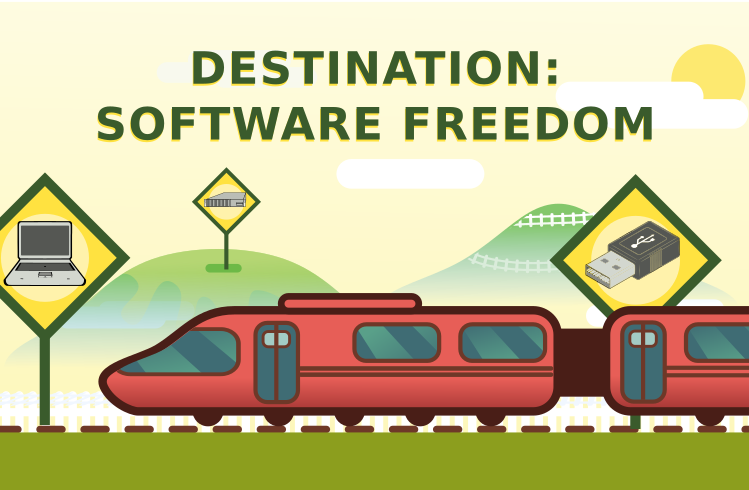 "Principalmente AMO la filosofía del software libre, o cualquier negocio libre. Es la forma más ética de hacer negocios, donde no hay explotación del prójimo y el dinero se gana a través de las donaciones de los clientes, de aquellos que pueden donar por el bien de todos. Este es el verdadero mercado libre ético." -- Xalgia
"En un mundo cada vez más informatizado, la libertad del software se está volviendo más esencial en la protección de las libertades personales." -- Daniel Wigle
"Solo estoy haciendo mi pequeña parte para preservar la libertad en nuestras computadoras y en la red." -- Amigo anónimo
Comparta su razón con la etiqueta #UserFreedom, o envíenos un correo electrónico a campaigns@fsf.org.
Join the IRC meetings to help shape the steps for the freedom ladder campaign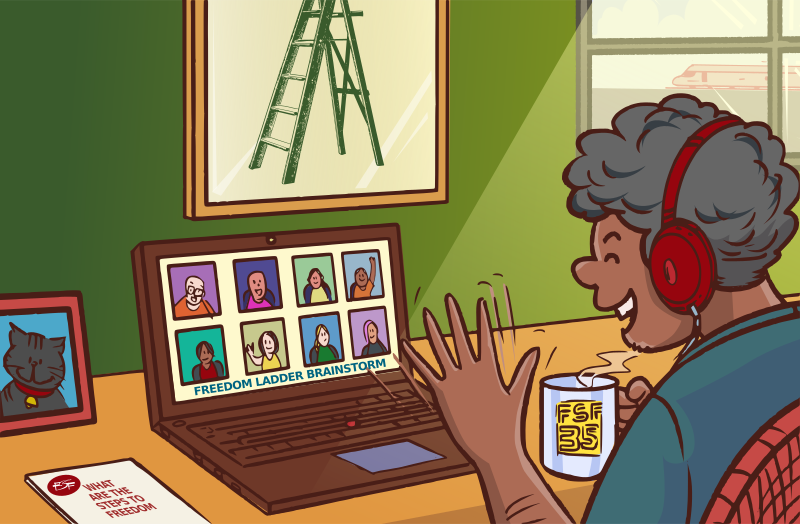 Participate in creating this campaign