Passez à l'étape suivante
Help us reach our 2021 fall fundraising goal of 500 new associate members before January 20!
Liens et articles apparentés
Passez à l'étape suivante
Pour garantir un avenir de liberté, il est vital d'apprendre, et d'enseigner aux autres, les étapes à franchir pour sauvegarder nos droits informatiques. Sur toute la planète, les gens prennent conscience qu'il est de leur responsabilité de se dresser pour défendre la liberté des utilisateurs contre les injustices technologiques. C'est maintenant qu'il faut nous aider les uns les autres à avancer vers la liberté complète du logiciel. Sans le logiciel libre (au sens de la liberté), notre société ne pourra pas être libre, et ne le sera pas. Votre adhésion nous aidera à ouvrir la voie vers la liberté des utilisateurs (#UserFreedom).
Pour protéger vos droits, nous comptons sur le soutien de personnes comme vous, qui utilisent et apprécient notre travail. Faites un pas de plus vers la libération complète du logiciel. Partagez ce message en utilisant le mot-clé #UserFreedom sur les réseaux sociaux..
See this page in: Spanish | English
Faites un pas de plus vers la liberté du logiciel
Read in-depth articles in the latest FSF Bulletin!
Install the JShelter Web extension today!
Join IDAD on 12/10 and help us fight DRM in streaming
Holiday gifts worth giving: Giving Guide out now!
Pourquoi soutenez-vous la FSF?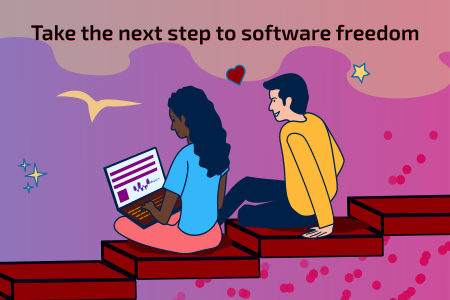 "La rareté artificielle est fondamentalement misanthrope. Pourtant elle est essentielle à l'univers que les GAFAM sont en train de construire. Voilà pourquoi, au-delà d'une simple obligation morale, soutenir la FSF est une nécessité existentielle." -- Un anonyme, membre associé de la FSF
"Je soutiens pleinement l'adoption généralisée du logiciel libre et je pense qu'aider la FSF est l'une des meilleures manières d'y arriver." -- Pierre Rajoely
"Je soutiens entièrement les idéaux du logiciel libre et il est clair que le monde est meilleur grâce à vous. Je pense que cette "expérience" a maintenant fait ses preuves! Les idéaux de la FSF fonctionnent, c'est tout." -- Jonathan Krell
Partagez vos motivations avec le mot-clé #UserFreedom, ou écrivez-nous à campaigns@fsf.org.