Dé el siguiente paso hacia la libertad del software. Hágase miembro antes del 20 de enero
Ayúdanos a alcanzar nuestra meta de 500 miembros antes del 20 de enero!
Enlaces y artículos relacionados
-
¡Dé el siguiente paso!
Para asegurar un futuro liberado, es vital que nos eduquemos a nosotros mismos y a los demás sobre los pasos que podemos tomar para asegurar nuestros derechos informáticos. Las personas de todo el mundo se están dando cuenta de su responsabilidad de defender la libertad del usuario contra la injusticia tecnológica. Ahora es el momento de ayudarse mutuamente a avanzar hacia la plena libertad del software. Sin software libre, no podemos y no tendremos una sociedad libre.
Tu membresía nos ayudará a allanar el camino hacia la libertad del usuario (#UserFreedom). Para proteger sus derechos, contamos con el apoyo de personas como usted, que utilizan y aprecian nuestro trabajo. Dé el siguiente paso hacia la plena libertad del software. Comparta el mensaje de software libre utilizando la etiqueta #UserFreedom en las redes sociales.
See this page in: English | French
Dé el siguiente paso hacia la libertad del software
Read in-depth articles in the latest FSF Bulletin!
Install the JShelter Web extension today!
Join IDAD on 12/10 and help us fight DRM in streaming
Holiday gifts worth giving: Giving Guide out now!
¿Por qué apoyar a la FSF?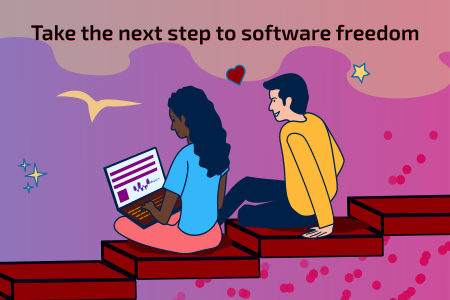 "La escasez artificial es, fundamentalmente, misantrópica. Sin embargo, es esencial para el mundo que las grandes tecnológicas están construyendo. Por eso, más que una mera compulsión moral, apoyar a la FSF es una necesidad existencial." -- Miembro asociado anónimo de la FSF
"Apoyo plenamente la adopción generalizada de software libre y creo que contribuir a la FSF es una de las mejores maneras de hacerlo." -- Pierre Rajoely
"Apoyo totalmente los ideales del software libre, y claramente el mundo es un lugar mejor gracias a ti. ¡Creo que este "experimento" ya ha sido probado! Los ideales de la FSF funcionan, punto." -- Jonathan Krell
Comparta sus razones con la etiqueta #UserFreedom, o envíe un correo electrónico a campaigns@fsf.org.

Translated by Victorhck, and iShareFreedom, free software activist.