Steven DuBois
Steven DuBois was an FSF intern for the summer of 2010.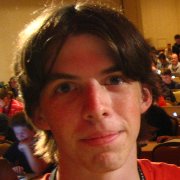 He has been using GNU/Linux for close to five years now and has been a FSF volunteer since 2009. Steven was a founding member of GNU Generation and is currently involved in the GNU social project.
Outside of the office, Steven enjoys magnets and little green ghouls.
His favorite food is milksteak and he holds great disdain for people's knees.
This fall, Steven will be attending the Rochester Institute of Technology where he will study Bird Law.