ThinkPenguin
ThinkPenguin, Inc sells TPE-N150USB Wireless N USB Adapter, which is certified to Respect Your Freedom.
TPE-N150USB and TPE-N150USBL Wireless N USB Adapters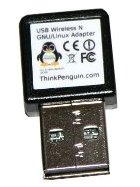 The TPE-N150USB Wireless N USB Adapter was awarded the use of the FSF's Respects Your Freedom certification mark on April 30th, 2013; and the long-range TPE-N150USBL Wireless N USB Adapter on June 6th, 2013.
Source code
The software certified for both the TPE-N150USB and TPE-N150USBL was the firmware and linux-libre kernel and driver. The firmware for both is for the Atheros AR9271 chipset manufactured by Qualcomm Atheros, whom also released the firmware as free software. The firmware is loaded onto the device via the Linux-libre ath9k-htc kernel module.
The version of the source code that was reviewed for each device as part of the FSF's certification process can be found at ryf.fsf.org/TPE-N150USB.
For security and stability we urge you to choose the newer versions of the firmware and kernel module than the exact version that was certified by the FSF. However, the firmware and module should be available in most GNU/Linux distributions that ship with newer versions of the Linux-libre kernel.