Show your support for LibrePlanet 2014 with our cool Web badge
With LibrePlanet 2014 just weeks away, here's an easy way to show how excited you are.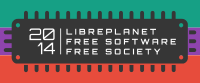 We've put together this colorful graphic for you to put on your Web site or blog. Not yet registered? There's still time to sign up for this year's conference. Do you live halfway around the world and can't make it to this year's conference? There will be plenty of ways to get involved in the conference for remote attendees, including live streaming.
Here's the HTML code to embed the badge on your site:
<a href="https://libreplanet.org/2014"><img src="https://static.fsf.org/nosvn/images/libreplanet2014-badge.png" alt="Come to LibrePlanet 2014!"/></a>