Meet the FSF staff and board of directors.
Staff
Richard M. Stallman, President: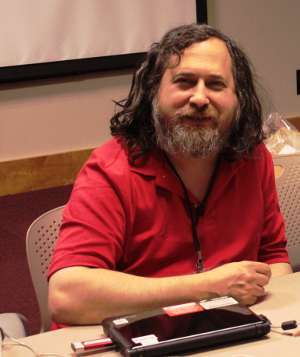 Richard is a software developer and software freedom activist. In 1983 he announced the project to develop the GNU operating system, a Unix-like operating system meant to be entirely free software, and has been the project's leader ever since. With that announcement Richard also launched the Free Software Movement. In October 1985 he started the Free Software Foundation.
Since the mid-1990s, Richard has spent most of his time in political advocacy for free software, and spreading the ethical ideas of the movement, as well as campaigning against both software patents and dangerous extension of copyright laws. Before that, Richard developed a number of widely used software components of GNU, including the original Emacs, the GNU Compiler Collection, the GNU symbolic debugger (gdb), GNU Emacs, and various other programs for the GNU operating system.
Richard pioneered the concept of copyleft, and is the main author of the GNU General Public License, the most widely used free software license.
Richard graduated from Harvard in 1974 with a BA in physics. During his college years, he also worked as a staff hacker at the MIT Artificial Intelligence Lab, learning operating system development by doing it. He wrote the first extensible Emacs text editor there in 1975. He also developed the AI technique of dependency-directed backtracking, also known as truth maintenance. In January 1984 he resigned from MIT to start the GNU project.
John Sullivan, Executive Director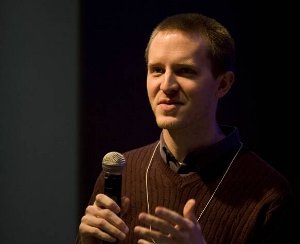 John started working with GNU Press and the Free Software Foundation in 2003 and then became the FSF's first Campaigns Manager, working on outreach efforts like Defective by Design, BadVista, and PlayOgg. In 2011, John became the Executive Director after four years as Manager of Operations.
His background is mainly in the humanities, with an MFA in Writing and Poetics and a BA in Philosophy, but he has been spending too much time with computers and online communities since the days of the Commodore 64. He's become a dedicated GNU Emacs user after first trying it around 1996, and contributes code to several of its extensions.
Prior to the FSF, John worked as a college debate team instructor for both Harvard and Michigan State University.
Ward Vandewege, Chief Technology Officer
Ward discovered GNU/Linux in 1995 and never looked back. He likes to do both system administration and programming work and doesn't mind wielding the occasional soldering iron. He became Chief Technology Officer at the Free Software Foundation in September 2011, and worked previously as a system administrator since 2005, and was a volunteer before that.

Chrissie Himes, operations assistant
Chrissie is a graduate of the University of San Diego School of Law and Northeastern University, where she studied the music industry. She was previously a legal fellow at New Media Rights in San Diego.
In her free time, Chrissie enjoys going to shows, playing/watching tennis, and winning at trivia.

Donald Robertson, copyright and licensing associate
assign@gnu.org General licensing questions: licensing@fsf.org
Donald is our copyright administrator in addition to doing licensing and compliance work with Joshua. Donald is a graduate of the New England School of Law and interned for the Hon. William G. Young at the federal district courthouse in Boston. Donald was previously the managing editor of the New England Law Review and wrote and published An Open Definition: Derivative Works of Software and the Free and Open Source Movement, 42 New. Eng. L. Rev. 339 (2008).

Jasimin Huang, business manager
Jasimin handles most of the foundation's finance and business administration. She is a graduate of San Francisco State University, where she studied International Business & Finance. She obtained her MBA from Northeastern University while working at the FSF.
In her spare time, Jasimin enjoys playing volleyball, running, photography, biking, gardening and travel.

Jeanne Rasata, assistant to the president
Jeanne Rasata started at the FSF in 2006 as the program assistant. She is now the membership coordinator and provides support to the president. In her spare time she enjoys people-watching and browsing through bookstores.

Joshua Gay, licensing and compliance manager
GNU speaker jgay@fsf.org General licensing questions: licensing@fsf.org
Joshua works with Donald in our licensing and compliance team, and has twice previously worked with the FSF as a campaigns manager. He is a programmer and activist whose interests revolve around technology, government, education, and computer user-freedom.

Kira, campaigns organizer
Kira is on the campaigns team working primarily on Defective by Design. Kira is a student at Hampshire College concentrating on the intersection of feminism with free software and free culture. They view the importance of free software through a lens of social justice as a way to work against ableism, racism, classism, and (hetero/cis)sexism. Kira also serves on Students for Free Culture's Board of Directors as their webmaster and technology director.

Libby Reinish, campaigns manager
Libby's job is to inspire people to use free software and put pressure on companies that violate user freedom. She is a justice organizer who believes in the power of appropriate technology to transform communities. Before joining the FSF, Libby worked to build community radio stations with the Prometheus Radio Project and advocated for better media policy at Free Press.

Martin Dluhos, system administrator
Martin joined the FSF as a junior systems administrator after interning for the summer. He recently graduated from Grinnell College, a liberal-arts institution where he majored in Computer Science. Besides computing, he enjoys reading, playing sports, and socializing with friends in his spare time.

Nico Cesar, system administrator
Nico is from Argentina. A programmer since childhood, he earned a degree in Software Engineering from the Universidad Tecnologica Nacional in Santa Fe, Argentina.
He previously had his own company for seven years, delivering solutions for GNU/Linux. For the last six years he's been doing sysadmin work for a living, while also giving public speeches, doing photography, hiking, sailing and traveling.

Peter (Peabo) Olson, senior system administrator
Peabo has used free software since the early 90s when he was working for the online service Delphi in support of the BIX Information Exchange. He joined the FSF as an associate member in 2004, and has been a vocal proponent of GNU/Linux for over a decade.

Zak Rogoff, campaigns manager
Zak is an activist and programmer. He wants to get people to think about software's potential to make our society more just and democratic. His degree is in robotics engineering, but most of his paid work has been as a campaigns manager.
When he's not working or commuting to work, Zak likes to wax philosophical about video games, cook veg food, play with animals and ride bikes with his friends.
---
TEST TEST TEST TEST
---